Welcome Autumn
The Autumn equinox is my second favorite time of the year, Spring being the first. The air begins to change and feel less humid, the days seem to feel shorter as the sun disappears sooner, and the anticipation of the coming holiday season fills my soul with joy. I wish everyone a wonderful Autumn season and good health.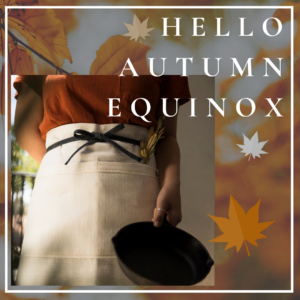 Eco-Friendly Textiles + Shopping
The retail industry is certainly gearing up for holiday shopping and stocking their shelves with seasonal wares and the likes. Now being a small business myself, I make it a point to pay close attention to what other small businesses are doing in preparation for the coming holidays. I make an effort to support them in every way I possibly can, particularly those that sell locally made products, wares, dry goods, and edibles. I have a few colleagues that design, produce, and sell their merchandise all under one roof. That business model is by far my favorite and a wish of mine. If it is meant to be, it will manifest one day.
It is so important that people who care about supporting small business, walk the walk. The big box retailers have been responsible for putting small businesses out of business, with no shame whatsoever. I want more and more people to be aware of this and think before they act. i want them to make an effort to shop small and make no excuse for doing the opposite. I want people to shop slow fashion instead of fast fashion. I want more people to shop eco-friendly and sustainable brands and take pride in doing so. I want more people to think quality instead of quantity and stop being so wasteful. I want people to become less materialistic and be thankful for the things they have and not yearn for what they do not have.
Eco-friendly textiles fit every lifestyle. I have been firm in my belief of living an eco-friendly lifestyle from day one and practice so daily in one way or another. Examples include but not limited to using reusable food covers instead of plastic food wrap, buying second hand house wares and decor, buying glass bottled beverages and reusing the bottles, wearing apparel made from reclaimed textiles, and of course, designing wares using reclaimed and up=cycled materials to make one-of-a-kind fashion for people, pets, and ecoists.
This Summer we did a mini photo shoot of a mini capsule of up-cycled denim aprons at a local favorite bar and music venue, Supply and Demand and had a great time. I worked with the talented Sydney Douglass, photographer, and the lovely Olga Perelman, also a small business owner, who so graciously modeled in the shoot. The two videos above are a taste of what I wanted, which was an urban and industrial look. I also wanted to beat the August heat and do an indoor shoot and the owners were so kind to allow us to shoot there. I enjoyed designing and creating this capsule of five one-of-a-kind aprons, bib style and waist style, using reclaimed denim and some new for a modern utilitarian look. This capsule is available at ADORE Boutique in Carlsbad Village. Please show some love and support this collective of local designers, artisans, and artists, in the beautiful beach town of Carlsbad, CA.
Last, but not least, this is your friendly reminder to do green, do eco-friendly, do one-of-a-kind. Shop local, shop small, eat local, support small business, live happy, live healthy, live fearless, and be a free thinker. Peace + love.